PIM 9th National and 2nd International Conference 2019
Global Innovation for Sharing Economy (GISE) and 2nd Smart Logistic Conference 
Friday, July 5, 2019


3rd Floor, Convention Hall, Panyapiwat Institute of Management Chaengwatthana Rd., Nonthaburi, Thailand
—————————————————-
            PIM 9th Panyapiwat National and 2nd International Conference 2019 is an annual academic conference activity organized by Panyapiwat Institute of Management. Its aims are to provide a forum for the presentation of research papers of the faculty staff and students from within and outside the institution and within and outside Thailand, for exchanging and sharing ideas among researchers, academics and professionals, and for hearing suggestions from the qualified experts. This will hopefully lead to the development of more research studies with high quality and the creation of cooperative networks among academics in the same or related disciplines.  The main theme of this Conference is that of "Global Innovation for Sharing Economy (GISE)"
Expected Outcomes:
Academics, professionals, faculty staff, researchers, and students have the forum to present their research papers, to exchange and share their knowledge, experiences, and ideas, and to hear suggestions from qualified experts.

The creation of cooperative networks among academics in the same or related disciplines.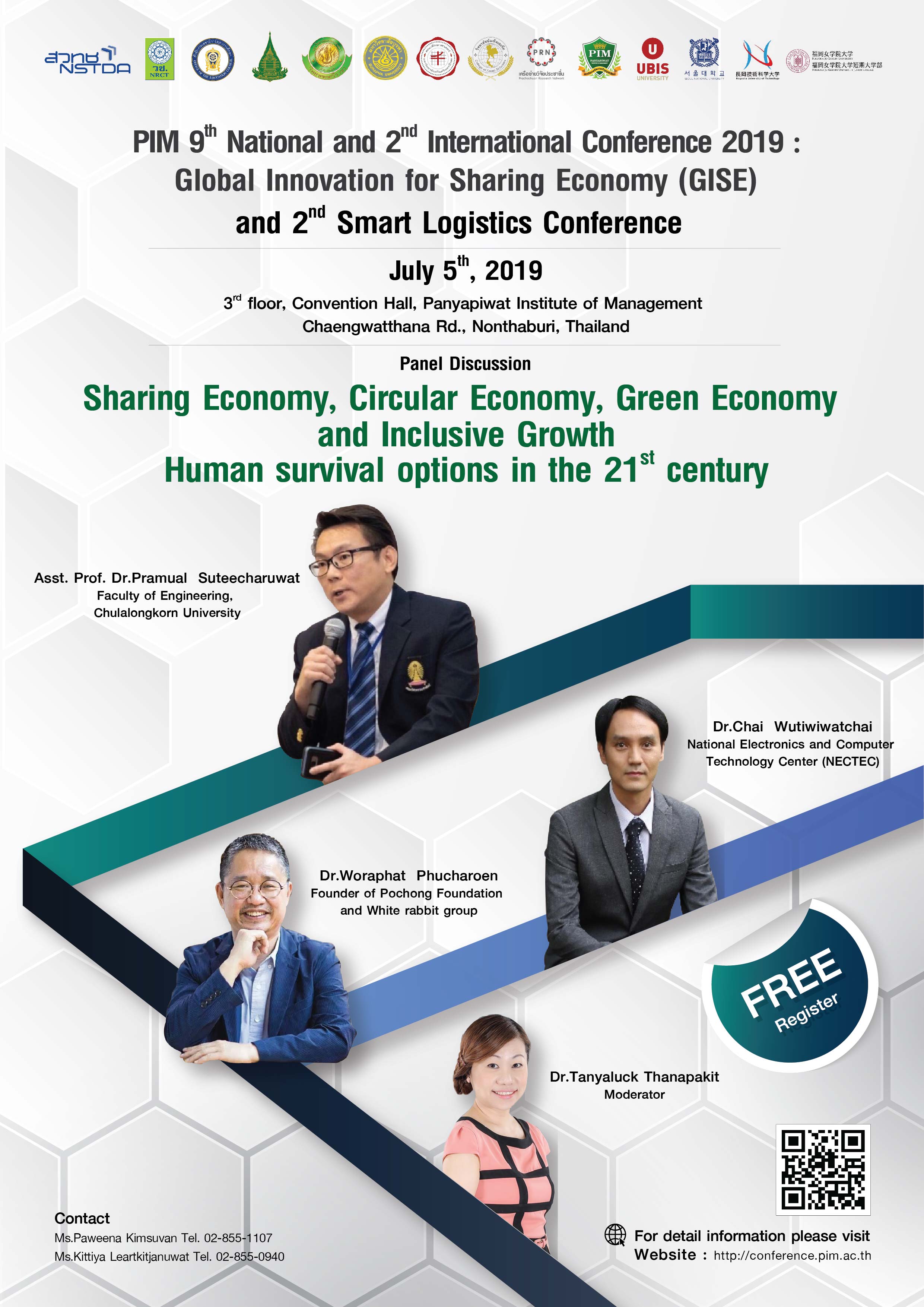 Announcement of the list of presentations
List of International Oral Presentations
List of International Poster Presentations
Schedule
Detailed

Early Bird  
Regular

Registration for

the presenter


– Submit full paper




– Submit

pay-in-slip

 

January 2019 – 28 February 2019

15 Mar  2019 – 10 April 2019

Notification for Acceptance

 15 March 2019

6 May 2019

Submit revised final paper and poster file




* The paper approval certificate will be registered within 10 working days.

  Within 25 March 2019

Announcement for the presenter's schedule and presentation venue

 Within 15 June 2019
Registration Fee
Early Bird Rate 




January – 28 February 2019

Regular Rate




15 March  2019 – 10 April 2019

 130 USD




(4,500 THB)

150 USD
(5,000 Baht)
Registration fee is Non-Refundable
The conference welcomes papers on the following tracks:
Business 

(Economic / Modern Trade / International Business / Management / Logistics)

Engineering and Technology

Agriculture

Communications

Education

Other related fields
Types of Presentation
Oral Presentation
Poster Presentation 
Languages for Presentation:  English/ Chinese 
All submissions must be original research not previously published or simultaneously submitted for publication.

Articles submitted for PIM conference must be Full paper (10-12 pages) and are peer reviewed before acceptance
Authors should make format, font types and references of the article to be consistent with the conference's paper template before submission, Please refer to the    Full paper template

The conference committee will issue an Acceptance Letter after the author submitted the final draft of an article corresponding to the peer review.

Authors should come to present their own articles on the conference date.
How to register and pay Registration Fee
 1.   Click menu  Registration , fill in author information and set Password.
 2.   After finishing registration, you can submit an article via eSubmission  , sign in by registered E-mail and password.
 3.  When you fill out the information to submit the article successfully See how to pay your registration page. Registration fees can be paid within 7 days after registration and article submission. With payment methods as follows 
       3.1 Download Bill Payment on the page where you register to pay for the registration fee. At Krung Thai 

Bank, Bangkok

 Bank, KASIKORNBANK, Bank of Ayudhya (Krungsri), TMB Bank, Bank for Agriculture and Agricultural Cooperatives and Government Savings Bank all branches.
      3.2 Payment via Scan Barcode / Mobile Banking and Cash Deposit Box on Siam Commercial Bank, Bank of Ayudhya (Krungsri), KASIKORNBANK, Bangkok Bank and TMB Bank. (No fee)
     3.3 Pay by credit card with a fee of 1.4%
*  Lecturers of PIM please contact Office of Research and Development for payment (Phone No. 1560,0908 no need to print Bill Payment) *

4.  Scan or take a photo of the Bill Payment or proof of payment, then upload to eSubmission to confirm the submission.
5.  The submitted article will be processed after we received a copy of the Bill Payment or proof of payment, our staff will be confirmed to the author.